1st winning team: 1 Click(Mr Ayaz Ishaq and team) awarded Rs,15000
2nd winning team: Cafe Foodball(Mr Omer Iqbal and team) awarded Rs,10,000
3rd winning team:Persona International(Mr Ahmed Fazeel and team) awarded Rs 5000
Entrepreneurial challenge event named 'Inspidea Episode 2' was held on 17th June, 2015 with the endless efforts made by CENTIN. CENTIN who has played a core part in boosting & steering the entrepreneurial spirit, once again successfully carried forward and kept the trend sustained after 'Inspidea Episode 1' which was in collaboration with IBA, Karachi.
Once again, CENTIN managed to arrange a number of participants that were interested and cheered to display their entrepreneurial spirit to the world. Out of several registrations, almost 15 groups got shortlisted that had inspiring ideas and had the potential to literally astonish and transform the society in to a better place.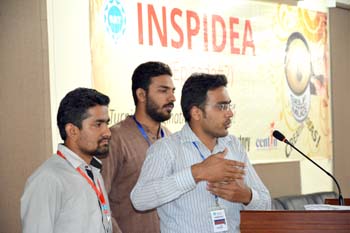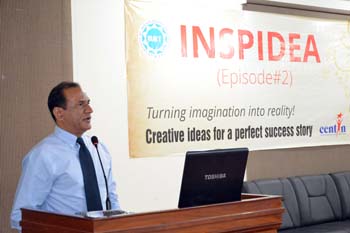 Idea pitching – 1click Mr. Ahmed Fazeel pitching his idea – Persona International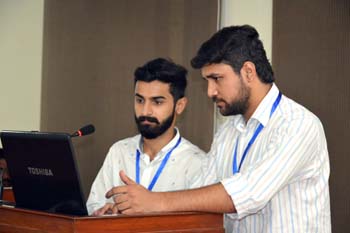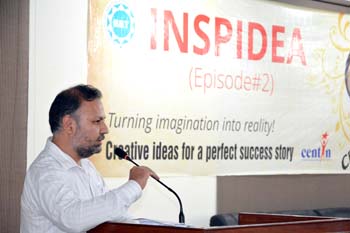 Our participants Director Centin-Introducing the judges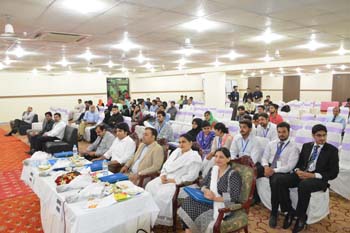 The Audience
The panel of judges was based on the successful entrepreneurs from the industry and academia. Their names are as follows:

Mr. Rashed Naseer Turabi (CEO of M.T. Services)

Mr. Manzar Bashir (Director Psychometrics and Development of HRx Consultancy)

Professor Sajid Masood (X-CEO of the chain of Knowledge Schools)

Ms. Sumaira Rizwan (CEO of CatEye Communications Agency)

Mrs. Ammara Farooq Malik (Managing Partner of Wyne Malik Consultants, Founder and CEO of Seplaa Foundation

The team of CENTIN is thankful to all of the worthy judges for their valuable inputs.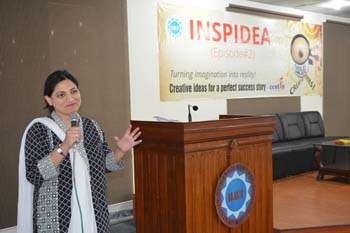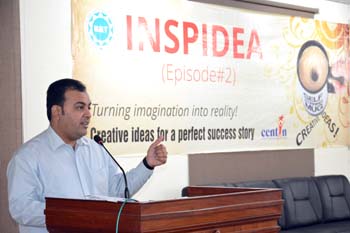 Ms. Ammara Farooq giving her reviews on the competition Mr. Rashed Naseer Turabi providing valuable insights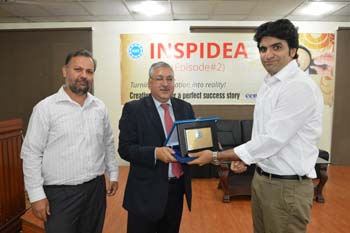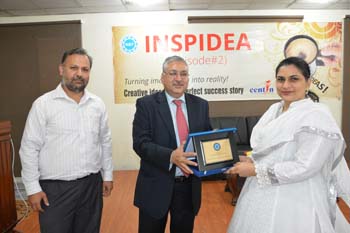 Presenting the souvenir to Mr. Manzar Bashir Presenting the souvenir to Ms Sumaira Rizwan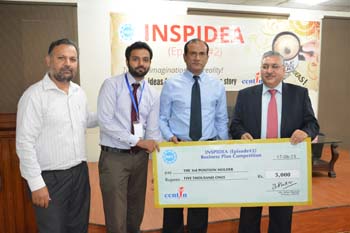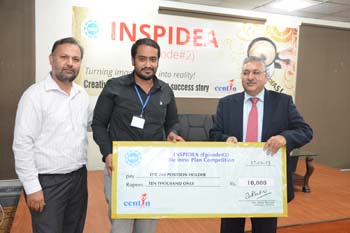 Third prize winners- persona International Second prize winner- Foodball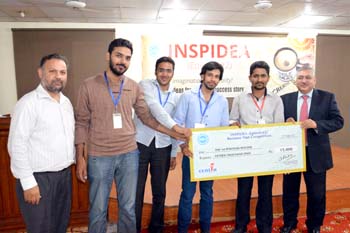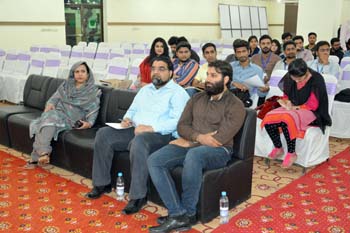 First prize winners- 1click Chief Guest – Dean SBE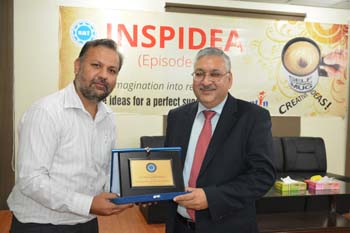 Director Centin presenting souvenir to Mr. Abid Sherwani
Top 3 teams were given cash prizes of Rs. 15000, Rs. 10000 and Rs. 5000 by the chief guest Mr. Abid Sherwani.

We would also like to thank Prof. Dr. Rukhsana and Mr. Abid Sherwani who took their time out of their busy schedules and joined us. In addition to this special thanks to Mr. Hammad Mushtaq, Mr. Dawood Butt, Mr. Manqoosh, Dr. Haroon Rasheed and Mr. Usman (manager industry linkages) who were the real backbone of the event and without them, most of the important activities were not possible.

We wish all the best to the participants of the event. May this event become the starting point of your entrepreneurial journey.